On July 22nd second wave of so called "Silent Action" has taken place in many cities and towns across Belarus. Thousands of mostly young people have taken to the streets in support of "Revolution Through Social Networks" initiative, which organizes protests via multiple social networking sites popular in Belarus. The nonpartisan movement tries to make use of resources that became a driving force behind many demonstrations and protests during "Arab Spring" in the Middle East and North Africa earlier this year. The idea is to peacefully express dissatisfaction with the current economic and political situation in the country without any chants or political party affiliation. By the end of the day approximately 450 people were arrested throughout Belarus.
Below are some links to articles, mostly in Belarusian and Russian, where citizen and professional journalists share photos, videos and commentaries on today's events.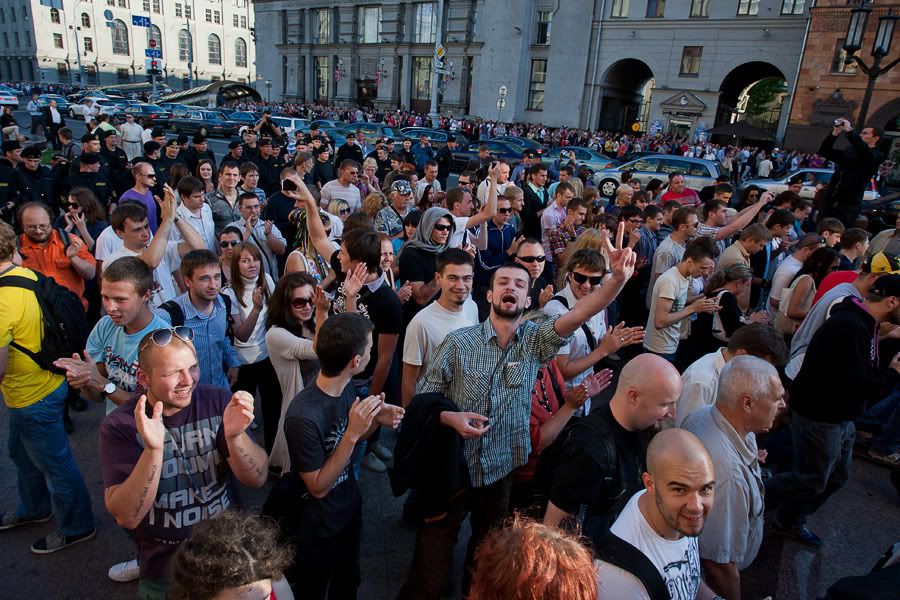 toxaby.livejournal.com (1)
toxaby.livejournal.com (2)
korsart.livejournal.com
p-kuznetsov.livejournal.com
by-politics.livejournal.com
euroradio.by
nn.by (1)
nn.by (2)
nn.by (3)
naviny.by (1)
naviny.by (2)
kp.by
belaruspartisan.org
svaboda.org (1)
svaboda.org (2)
svaboda.org (3)
kurt-bielarus.livejournal.com
actualcomment.ru
welgar.livejournal.com
It took many years but Belarusian version of Google search has finally moved to the Google.by domain name. For a long time it was just www.google.com/intl/be/ that had Belarusian user interface. Then www.google.com.by came along and became an official Belarusian Google search page. Because of obscure intellectual property and copyright laws in Belarus, domain google.by ...Read more.
Live news and media from Belarus can be fount here: svaboda.org Use Google translate gadget in the top right corner www.belradio.fm/en naviny.by/rubrics/english/ charter97.org/en/news/ spring96.org/en All websites above are updating their English versions not as often as Belarusian or Russian. Use Google translate to translate pages in your language. Photos uploaded from mobile devices. Nyaklyayew and ...Read more.
On October 8, NTV, one of Russia's most popular TV channels, has broadcasted the latest episode of its scandalous miniseries "Крёстный Батька" (The Godfather). Little clarification here, "Батька" is Belarusian word for "father" not Russian ("Отец"). "Батька" is how many Russians (and some Belarusians) jokingly refer to Lukashenko, that's how he referred once to himself ...Read more.
Belarusian government owns quite a valuable asset which currently generates very significant and steady flow of foreign currency for the country. Belaruskali is world's third largest (15%) supplier of potash (potassium chloride or KCl). Recently the global potash business has enjoyed lots of attention. Fertilizer industry becomes more and more lucrative fueled by $40 billion ...Read more.
On October 4, 2010 Telekom Austria Group (VSE: TKA, OTC US: TKAGY) announced that it became the sole owner of one of the largest mobile operators in Belarus. It acquired the final 30%-stake in the company from its previous owner Samauwi Brothers Telecom (SB Telecom Ltd.) for EUR 335.0 million. In addition, a EUR 247.7 ...Read more.
It didn't take long for Kremlin to respond to accusations of political and economic bullying as well as corruption and lying voiced by Lukashenko. On Sunday (!) October 3rd, just two days after president of Belarus spoke in front of more than 100 Russian journalists, Dmitry Medvedev posted a response on his official video blog ...Read more.
On October 1st Belarusian president Lukashenko held his eighth annual press conference aimed at Russian media. The record number of more than one hundred reporters from neighboring country attended the event. Their interest was fueled by the growing number of personal attacks aimed at Lukashenko on Russian TV and upcoming presidential elections in Belarus. Lukashenko ...Read more.
Today was the first day of the signature-collecting campaign in Belarus. In order to be officially registered as a presidential candidate, politicians must submit no less than 100,000 valid signatures in their support. The campaign has begun on September 30th and will end on October 29th. Most presidential hopefuls end members of their initiative groups ...Read more.
Yes, there is a country called Belarus somewhere on the outskirts of Europe. Millions of English-speaking people know very little about this country and its language, and usually one of the very first questions that arises when people first encounter the name is: "What is the correct adjective form, and how does one pronounce it?" ...Read more.